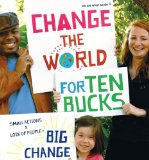 Instead of waiting until you 'have more time' or 'have more money' you can do simple daily actions that help you change the world while also benefiting yourself with feeling happier every day.
How?
Shortly after writing my kindness article, Elliot and I stumbled upon a book to help each of us change the world called Change the World for Ten Bucks, which we purchased.
In my kindness article, I discussed the importance of practicing random acts of kindness to make a difference in the world. I also discussed how it benefits both the giver and recipient of kindness with raised serotonin levels, which naturally leads to feeling more happy.
So, let's combine the two thoughts – By practicing random acts of kindness and the other simple actions discussed in the Change the World book, you can help change the world while also naturally feeling happier each day. (great concept, right?)
It was written by We Are What We Do, a nonprofit organization aiming to inspire every day people to change the world through simple actions. The book has 50 actions that are easy to do during a regular day.
I implement this book by doing one action item each day. The types of action items range from:
Things you only need to do once, such as switching to energy saving light-bulbs,
Things you would do daily, such as smile and smile back,
And other things that may take more planning to implement, such as learning basic first aid or taking a refresher course (which reminds me because it has been over six years since I did this class 🙂 ) And, if you come across something that may take more work and time than you anticipated, move on to the next one (for now 🙂 ).
After a while, it will become automatic. For example, it seemed hard at first to remember my cloth bags each time I went shopping. It is now automatic and I don't even think about it; like grabbing my purse before I leave the house.
If you come across actions that really interest you that make you want to learn and do more, you can reference the additional resources in each section and in the back of the book.
I recommend everyone to purchase the book, Change the World for Ten Bucks, to support We Are What We Do and for the benefit of themselves, others, and the world.
For more information visit their non-profit organization's website here: We Are What We Do.
Now your turn.  What ideas do you have for everyday actions that can make a difference in the lives of others and the world? Please share using the sharing features below.
Similar Posts: