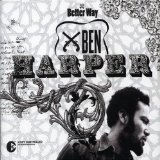 "What good is a man that won't take a stand? What good is a cynic with no better plans? I believe in a better way." – Ben Harper 'Better Way'
We stumble across many inspirational artifacts from all areas of our life on a regular basis. Artifacts ranging from personal experience, travel, arts, music, movies, and the list goes on.
We wanted to share some of these pieces of inspiration more frequently at InspirationTheRide.com in addition to the longer articles and ideas we write about.
Ben Harper's Better Way song is such a piece.
We were listening to random music from our music library the other day and Ben Harper's Better Way song played randomly.
This time we heard it, we really heard the words.
You know how you can have an experience, read a book or watch a movie and learn something different each time? Well, that's what happened to us with Ben Harper's song and we wanted to share.
For us, this piece says to always seek a better way and never settle for what doesn't make us happy. Let us all seek fulfillment in our lives and a better way for humanity.
So, without further ado, please listen to Ben Harper's Better Way and be inspired and moved to believe (and act) in a better way…
Similar Posts: