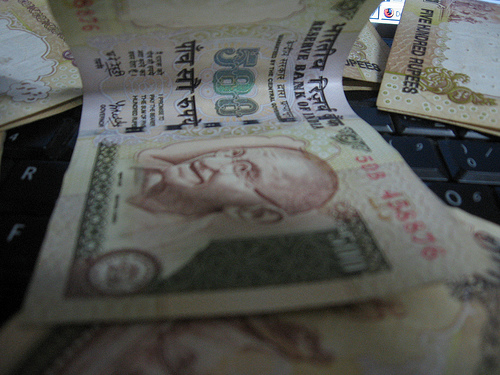 Photo Credit: http://www.flickr.com/photos/denharsh/ / CC BY 2.0
Background Story:
Have you ever wondered how you can strike a balance between making a living and doing what you love using your passions and talents to serve others? (To symbolize this balance, we chose the photograph of money with Gandhi above.)
This was a question that we pondered prior to stumbling upon blogging and launching this site, InspirationTheRide.com. 
Briefly, after a series of events (which Elliot mentioned in his article Expressing Gratitude, Embracing Uncertainty & Seizing the Day: Reflections on My Birthday), we accidentally stumbled upon the idea of blogging. During this period, we researched much information on the internet and in print. We searched Amazon.com for the best books and read reviews to see which ones would suit our purposes.
After much research, we purchased the items we actually recommend on our Blogging Resources page.
We read The Huffington Post Complete Guide to Blogging which gives you a sense of purpose with blogging. We also read Problogger: Secrets for Blogging Your Way to a Six-Figure Income for the making money aspect, which was a fine book in and of itself.
Finally, after reading these two books and actually seeing Yaro Starak's products being advertised on Darren Rowse's Problogger website, we decided to give it a go. We signed up for Yaro's email newsletter as well as received copies of all of the free reports (Roadmap to Become a Blogger, Blog Profits Blueprint, and Membership Site Masterplan).
The free reports and the videos provided lots of quality information for free. And, the funny thing was that we had just happened to sign up for his email newsletter just as Yaro Starak and Gideon Shalwick were re-opening their Become-A-Blogger program.
We lucked out and got in.
The information they provided was great. Gideon's videos walk you step-by-step through the process of learning how to use the WordPress blogging platform and adding all the extras to make your blog look professional to be able to make money.
Now, we're not going to write an in-depth review of these products because that's not what this site is about; however, what we will mention is the aspect of using these products to make money doing what you love. Before moving on, however, we did want to say that we like and recommend Yaro's and Gideon's products. (NOTE: this is not about a get-rich-quick scheme; anything worth doing takes lots of effort and hard work.)
So, how do you go about making money doing what you love?
Well, first you have to ask yourself (and answer) – what are your passions and talents? As the saying goes, if you love what you're doing you never work a day in your life.
Have you always wanted to make a living by expressing your passions and talents? And if you don't know what your passions and talents are, the easiest way to figure them out is to make a list of all the things you enjoy doing.
Can any of these interests translate into a product or service which you can make a living by teaching or helping others?
Do you like to write?
Do you have a great eye for photographs?
Do you love dogs?
Are you the best Italian cook you know?
The list can go on and on. Things that may seem to be a hobby for you could turn into a livelihood.
And, this is where Yaro Starak's and Gideon Shalwick's products come into play. They all help you take your passions and talents to create a product or service so that you can get paid to do what you love. Their free reports are all worth reading and reviewing. These reports go much more in depth on considering your passions and talents for using blogging and/or membership sites to make a living online.
The 3 products from Yaro Starak featuring 1 partnered with Gideon Shalwick…
1. Become a Blogger:
Become a Blogger is an introductory blogging product that offers tremendous value. If you are just getting started or are thinking about getting started, this product from Gideon and Yaro is perfect for you. Become a Blogger is a video course done by both Yaro Starak and Gideon Shalwick in which you learn the basics of blogging.  With blogging you publish your ideas through writing for other people to benefit.  Check out their 10 free Become a Blogger video tutorials to see a sampling of what they offer.  Also download their free Roadmap to Become a Blogger E-Book for invaluable tools for blogging. This course (along with the free e-book) will get you started with the basics of becoming a blogger and getting your own blog live very quickly.
2. Blog Mastermind:

The next product is called the Blog Mastermind course which is exclusively Yaro Starak's product. This is an advanced course for bloggers to learn how to take their blogs to the next level.  For a more in depth understanding, we highly recommend checking out Yaro's free Blog Profits Blueprint, which provides tons of great information. This product is for more advanced bloggers wanting to learn topics that will help them to create a popular and profitable blog.
3. Membership Site Mastermind:
The final product offered by Yaro Starak is called the Membership Site Mastermind course. Yaro offers a free report that gives invaluable information on starting your own membership site.  By downloading the report you will get a better idea of what the course is about. Briefly, however, the course shows you a way to create a membership site or sites in which people pay you to teach them what you know. You use your passions and talents to teach people and make money.
In closing, the recommendations above can help you take a passion or talent to teach others and make a living doing so.  You will be happier doing what you love and others benefit from learning from you.
We believe it is important to approach this not from merely making money. Money is nice, but it will not ultimately make you fulfilled. This is why we say it is best to go about this with your personal passions and talents versus doing something you think would ONLY be monetarily beneficial. The money will come from your passion and enthusiasm you put into your work.
If you have a passion and are ready for a change, this is for you. All the products above show you ways to get paid doing what you love.
Now, your turn. Do you have any special talents that you would like to turn into a livelihood? Do you know anyone who has talents they can convert into an online business? Please share your thoughts below by commenting and/or share with others by engaging in the social media provided.
Similar Posts: