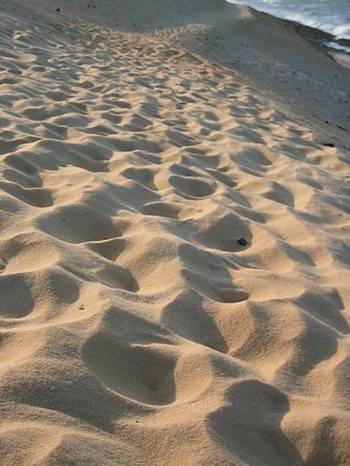 (Photo Copyright Terrah Lozano – Jericoacoara, Brazil )
After living a miserable life, Ivan Ilyich's, the main character from Leo Tolstoy's The Death of Ivan Ilyich
, last words on his deathbed were, "What if my whole life has been wrong?" (Ours will be, "That was a hell of a ride!")
No one wants to think of themselves saying these profound words on their deathbeds.
Why, then, do so many people choose to live mediocre lives ultimately leaving themselves open for such a harsh end?
We believe it lies largely upon a person's inability to grow and develop and push their lives to the maximum for their own sake, for their own unique purpose. It is important for finding your life purpose before your dying words because we can all make a difference.
Most people are not living up to their true potential. Most people have given up. Most people have not accomplished the things in their life that are important to them (or are at least going after them).
We provide ideas that will help you along your life path.
Our passion and purpose is to help you achieve your potential on this earth while also pursuing our other passions. In essence, we hope to lead by example and provide real-world information from the field.
We are only here for a moment; we must make that moment worthwhile.
We ask you to stop and think of this thought for a moment…
If you think of yourself as the next evolution of humanity and consciousness, then you can choose to embrace the ideas and concepts we discuss and evolve in your being as well. We can all EVOLVE together into EACH OF OUR GREAT and UNIQUE beings.

If you choose to acknowledge that unique "being" in all of us that stemmed from the influence of our environments, then the next logical step is for all of us to continue together on this growth.
While you were growing up, you had your own experiences that shaped you as a person. Some of you have cemented those ideas into your mind and consciousness, forbidding yourself to move and grow and continue your personal development.
You choose to regurgitate the same statement, "I'm stuck in my ways." This is a state of mind that you are creating. You are choosing to be stuck in your ways. Change your ways and change your life for the better, if you so dare.
We suggest that you open up your consciousness to this state of mind to allow your consciousness to achieve new levels of awareness for your sake and for everyone's sake.
By you participating in this evolution, we all grow. By refusing to participate, you remain stagnant and unwilling to fulfill your life's goals and contribute to the greater good.
We provide vital and/or paramount information that provides new insight into how to fulfill your life purpose. We are also trying to achieve our life's purpose and balance/harmony in our lives.
By no means do we purport to say that we have all the answers, but at least we have the guts to say that we tried and failed, or tried and succeeded. We offer up our ideas and test them. When they don't work, we try something new or modify them or scrap them. If you don't try, you will never know your true strength.
We are offering up food for thought as part of the conversation to expand everyone's consciousness.
Everything that is in your life at this moment in time and in the past was created from your consciousness and the choices you made. You control by choice what the future holds.
Let us all choose a path that is more in tune with our spirits. Let us all live our unique lives in congruence with our purpose on this earth. Let us all discover through a process of self-discovery what we need to do in this life. The road will not always be easy, but we can get there together if we stick to it.
What will your last words be? Please share below.
Similar Posts: