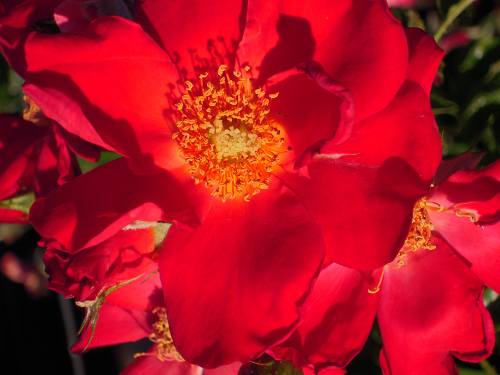 (Photo Copyright Terrah Lozano – New Mexico, USA)
"Indeed, love is only truly manifest when expressed through the medium of friendship."- Andrew Sullivan in Love Undetectable
This quote is something I actually wrote in one of my first emails to Terrah after we first met. I'll come back to it later.
Here's the story…
I was coming out of my business course in college and she was canvassing for Greenpeace just outside the entry.
She stopped me to try to pitch me on the issue so I would donate.
I stopped because I thought she was attractive.
We began talking for a bit. Sometime during the conversation, I mentioned the hybrid vehicles that were coming out.
This is when Terrah spoke up and said, "I drive a Jeep." We were both laughing at the hypocritical situation of working for Greenpeace discussing environmental issues and her driving an SUV. (We later purchased a Toyota Prius.)
At the end of the conversation, I asked for her email address so that I could "keep up with the campaign." (Of course, I was more interested in her than the campaign at the time.)
In the course of a few emails following that day, one email included, "Indeed, love is only truly manifest when expressed through the medium of friendship." – Andrew Sullivan in Love Undetectable
We met in the summer of 2003 and, soon afterwards, I went off to the Navy. While I went off and did my thing serving my country and enjoying life, she did her thing traveling and enjoying life. We spoke on the phone, but for the most part we were living our individual lives. Terrah traveled. I served in the Navy. We both had lots of experiences together and apart.
Upon moving in together, we kept the same zest for this philosophy going. We have both continued to develop ourselves into the people we each want to become while at the same time loving each other.
So, why are you telling me this, what's the point?
The point is that balancing love and friendship is important to achieving fulfillment. Let me clarify a bit.
By no means am I a love and friendship expert; however, this philosophy was the foundation of our relationship and I have been living and applying it during my entire relationship so I feel I can vouch for its credibility.
This philosophy was brought about in my life through a philosophy course on love and friendship in college several years ago. In this course, I was exposed to several great well known philosopher's views on love and friendship such as Socrates and Plato. This breadth of philosopher's ideas I was exposed to opened my eyes to a new perspective of love. A perspective that we have implemented into our lives as a philosophy and that I believe is important for achieving fulfillment.
After reading many books, writing papers, and engaging in discussions on this topic, I found the quote from Andrew Sullivan's book Love Undetectable
at the beginning of this article. It succinctly stated my conclusion for my philosophy of love and friendship.
This philosophy says it is important to spend time with one another and love one another; however, we must also take the time to go after our unique visions and purpose. This is how the love and friendship relationship can simultaneously exist with two people. You respect the friendship between you that honors your uniqueness but you also love each other.
When I speak of love and friendship, what I am talking about is two distinct types of relationships. A love relationship would be something like what you have with your boyfriend, girlfriend, husband, wife and can sometimes lead to isolation from your dreams. A friendship relationship still involves love but primarily involves autonomous relationships between two people following their unique interests and dreams. To clarify what I am meaning by this, here's a quote from C.S. Lewis as quoted in Andrew Sullivan in Love Undetectable
:
"The prototypical stance of two lovers is facing one another, their eyes gazing at each other, enraptured in each other's selves. But the classic stance of two friends is side by side, looking ahead in the same direction. The two stances are not complementary; they are opposed. And although it is conceivable to unite them, it is quite a hazardous enterprise. When a friendship becomes a love, of course, the moment may be particularly liberating. But it is liberating precisely because one is leaving the distance and discipline that friendship demands for the union and abandon that love promises."
This quote, coming from the same author as the initial quote, seems pretty damning to a friendship becoming a love relationship. Well, IT IS, but only in the sense of NOT balancing love and friendship.
Which brings me back to the initial quote (paraphrased) – Love is best manifest when expressed through friendship.
Meaning, you must allow your partner (and yourself) to flourish, dream, and be liberated while also being a part of each other's lives. We are all unique with our own dreams. We must live them and have a partner that supports us. We can't let too strong of a love relationship wash away our dreams, forget ourselves and hold back our partners.
By each of us living this philosophy as it applies to love and friendship, I hope that we are all able to achieve fulfillment going after whatever your and your partner's heart desires.
For more great information on this topic, I recommend purchasing these great books:
Now, what are your thoughts on this topic? Has a love relationship held you back for too long? What dreams are you postponing? Are you holding back your partner from their dreams? I hope not…
Also, to read more about our philosophy on achieving fulfillment in life, please read: Waking Up to Life – A Philosophy of Life
Similar Posts: